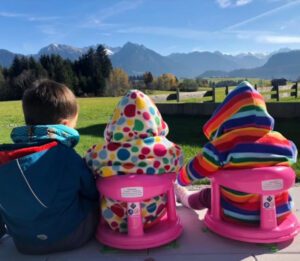 As all of our designs and hand made here in our studio in Cork, we feel a connection with piece as it leaves for its forever home and hope you feel the same when you receive and wear it!
It's always wonderful and really appreciated when a customer takes the time to leave a review to let us know what they think, good or bad !!
Also if you feel like following us on social media we would love it.
Thank You!
I cannot recommend these products enough! I have bought several fleece jackets hats etc. over the years and have always been delighted with the quality, choice and service…. It's a very personal service and all requests are taken on board. My grandchildren love all the items and look so well in them…. People are always asking where I got them… one of the best Irish brands around!
Bagoose is really my go-to place for baby presents. Every single new mum absolutely loved receiving a Bagoose fleece or blanket or booties. Fantastic quality. I'm delighted to support a local Cork business.
I have ordered from Simone many times and she is so pleasant to deal with. Every parent who has received a baby present has been thrilled and the quality is excellent
Lovely cosy fleece children's clothing, blankets, booties etc in fabulous colours.And they last forever! Handmade in Cork by very creative Simone .
Highly recommend Ba Goose. Beautiful unique baby products !
Beautifully made clothing, great quality!